Environmentally friendly and efficient, the Meri Crusher crushes and mulches stumps, roots, branches, ice, soil and asphalt.

Meri Crushers have been successful in many different environments such as siesmic, oilfield, forestry, landscaping, construction, agriculture, landclearing and municipal. It is available in drum widths from 1 to 2.5 metres with hydraulic, Thomas skidsteer mounting and Pto driven.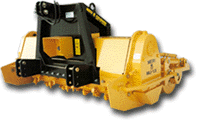 For more product information click here to visit the Meri Crusher manufacturer's site.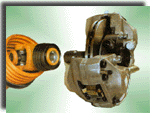 *See also: information on the
Pressure Operated Safety Clutch.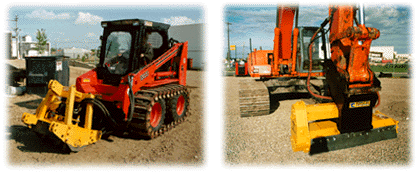 SOIL PREPARATION, ROAD CONSTRUCTION, FOREST LAND CLEARING: Versatile MERI CRUSHER is capable of handling stumps, roots, branches, ice, soil, gravel, asphalt... almost everything. MERI CRUSHER can be easily mounted in many kinds of base machines both rear or front. Power requirements depend entirely on the type of work and the working speed. Generally working in the forests 100 hp tractors with low gears are needed.
FOREST

crushing leftovers
clearing of tracks
planting land preparing
preparing of anti-fire lanes
forest road maintenance
clearing and maintenance of electric power lines

AGRICULTURE

crushing of old fruit and berry trees
soil preparation
farm road maintenance
keeping the fallow land in presentable condition
reclaiming old farm land

MUNICIPAL

gardening and landscaping
stump crushing
park path maintenance
preparing and maintenance of jogging and ski tracks
asphalt crushing