| | |
| --- | --- |
| | The Beaver forestry prime mover transforms large vegetation into mulch, which can be groomed into topsoil for reforestation or property development. This process can significantly increase the value and usefulness of the property. |
| The B245 is a powerful, yet compact, track-driven prime mover specifically designed for forestry reduction. The mechanically driven PTO, with fluid coupling, maximizes machine performance while easing operator control. The two speed hydro-static drive offers infinitely variable second speed, up to 7 mph in high range. All machine functions can be controlled without the operator removing his hands from the joystick. | |
| | The climate-controlled cab, with its complement of gauges and electronic interface to all monitored engine points, maximizes operator comfort and awareness in the toughest conditions. Large access doors make routine maintenance, like filter changes and fluid checks, simple. The 425 horse-power Caterpillar engine offers the latest in diesel performance and reliability with on-board electronics that optimize efficiency and reduce downtime. Even in the toughest conditions, the tractor remains sure-footed with its D5 undercarriage. |
Click here to watch a movie of the B245 in action.
STANDARD EQUIPMENT
1. Designed for rugged forest applications with heavy-duty steel tubing frame construction.
2. Full length D5 undercarriage with two-speed final drives. Eight psi ground pressure with standard 1/2 meter track. Wider tracks also available.
3. Can is equipped with heater and AC climate control. All windows made from Lexan.
4. Sun Strand hydrostatic track drives.
5. Rear—mounted radiator with removable screens for simple cleanout.
6. Oversized, category 3, three-point-hitch with independent float.
7. Six halogen lights-four front, two rear.
8. Efficient direct drive mechanical PTO with fluid coupling for easy starts and shock absorption.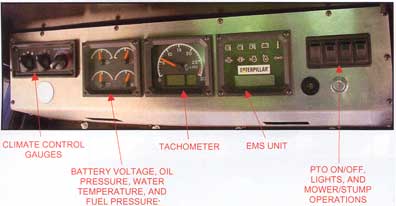 CAPACITIES
Fuel Tank: 125 gallon
Crankcase and Filter: 9 gallon
Hydraulic Tank: 40 gallon
The cab is made from sturdy 4 x 4 steel tubing and is fully insulated for operator comfort. The operator interface / display panel is located just above the front windshield for easy viewing at all times. It includes a myriad of useful items including: battery voltage, oil pressure, water temperature, and fuel pressure gauges; climate control knobs; tachometer; EMS unit; and PTO on / off, lights, and mower / stump operation switches.
The ten-way adjustable seat provides all day comfort for the operator. Floor to ceiling windows provide good visibility of the tracks and the task at hand, for optimum operator control. The tractor also features all digital proportional joystick controls. Each function can be tuned to operator preference, including ramp up / down time, and maximum and minimum speed.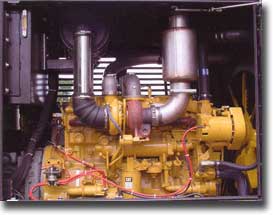 ENGINE SPECIFICATIONS:
Make and Model: CATERPILLAR C12
No. of Cylinders: 6
Displacement: 12.0 LITERS (732 CU.IN.)
Bore and Stroke: 5.10" x 5.90"
Compression Ratio: 16.0:1
Oil System Capacity: 34 LITERS (9.0 US GALLONS)
Maximum Hp: 425 HP @ 1800 RPM
Maximum Torque: 1350 LBFT @ 1400 RPM
Fuel Economy: 0.334 LB/HP-HR @ 1800 RPM
<![if !supportEmptyParas]>